The Council Chairman Bowl: V-Sing-Along
Team 1 "You Are Not Alone"
Entry 001 "You Are Not Alone" is created by CHENG Yan (male voice), Sun Jiayu (female voice), HE Haoran (guitar), and TIAN Zhongshi (piano), members of Mosaic College.
Here's their message:
"This song comes from Michael Jackson. The first draft is from r. kelly, a song written by r. kelly after he lost someone close to him in his life, reflecting on a difficult time in his personal life. Michael Jackson loved it and thought it was similar to what was happening in his own life at the time, and together they produced the song, which was nominated for best pop performance at the 38th Grammy awards. The song is well-known and full of mutual encouragement between the producers. During the flu season, it is important to come together and give encouragement and joy to others."
Entry 002  "一路上有你" is created by FONG Hei Tung Crystal and MA Ching Lam from Wellness College. Here's their message:
"如歌詞中說道在許多關係中分離是注定的但不是永遠的,總有重逢的一天。就如疫情下我們和朋友,同學雖身不在一起,但我們之間的關係並沒有斷裂。一路上總有人相伴。"
Entry 003 "大魚" is created by ZHONG Jing and LI Yuexiang from Patrick S C Poon Amity College. Here's their message:
"所有活著的人,都是海里一條巨大的魚。出生的時候,他們從海的這一岸出發,他們的生命就像橫越大海,有時候相遇,但是有時候又分離。到生命終結的時候,他們於是就到達了海的另一岸,各自去各自的世界。隨著年齡的增長,我們的夢想也逐漸成長了起來,於是我們將它放飛了。長大後的我們很害怕,隨著現實的巨浪和在其中受到的傷害而離夢想越來越遠,但是我們更害怕的是折斷了它的翅膀。希望大家都能莫忘初心,堅持夢想,不負韶華。即使在疫情中困難重重,也能不斷接近自己的夢想。"
Entry 004: "假使世界不像你預期" is created by TSOI Ting Wai and LAU Chun Wai from Evergreen College. Here's their message:
"We choose this song is because this song is talking about life may not be as you expected, and we are often discouraged by reality. But as long as we remember that we are not alone, we still have friends beside us. We use simple guitar accompaniment to play the melody, expressing the fact that people have the needs of life is very simple, not a lot of advanced and fast. Two people, a guitar, can sing a good song."
Entry 005: "太陽" is created by CHAN Wing Nam and CHAN Hoi Ting from Evergreen College. Here's their message:
"現時肺炎問題越來越嚴重,令大家感到驚慌不已。太陽這首歌中的歌詞帶出其實所有宿生並不孤單,不論留在家中還是宿舍的宿生都要記得大家一直在大家的身邊,綠延書院亦永遠是各位綠延宿生的太陽,永遠陪伴大家渡過難關及提供溫暖的住宿環境。希望太陽這首歌可以令大家感受到YOU ARE NOT ALONE。"
Team 6 "My Class Will Go On"
Entry 006: "My Class Will Go On" is created by YANG Ruo Jun and MA Jing Yi from Evergreen College. Here's their message:
"This song we cover is a different version of the famous song—-My Heart Will Go On, with an adapted lyric. The lyric mainly talks about a teacher hopes his students to show up to his class which is carried out in ZOOM, and don't stop or give up hopes on pursuing knowledge even in the condition of the current situation. The song aims to encourage students to take good care of themselves in the tough special period of time. No matter how tough the outside environment is, students shouldn't skip their online classes. Even though the virus set us apart, we are still being together when doing the same thing and heading towards the same direction."
Scoring for The Council Chairman Bowl
Winning entries will gain points for their RCs accordingly and contribute to their total scores in the Council Chairman Bowl 2019/20:
Champion: 100
1st runner-up: 80
2nd runner-up: 60
3rd runner-up: 40
Individual Prizes
Beside the points gained by respective Colleges in Council Chairman Bowl, the winners of the following titles will also receive additional prizes:
Champion: $300 voucher per participant (maximum $1,500 in a group)
1st runner-up: $200 voucher per participant (maximum $1,000 in a group)
General Regulations:
Due to the inter-RC nature of the Council Chairman Bowl, the participants in a single entry should be residents or affiliated members of the same residential college.
A minimum of TWO people has to be involved in a single submission.
All current residents (including residents who have withdrawn through one-off withdrawal scheme in February 2020) or affiliated members are eligible for submission.
To ensure fairness in adjudication, each RC is required to submit two entries.
In the event of the submission of more than two entries from an RC, the RC management team will be invited to hold internal adjudication and select two entries for the Competition. The judgement of RC management team is final.
If any RC fails to submit a total of two entries for the Competition, it will be automatically disqualified.Participants will receive 3 ECA hours / 1 iGPS unit.
The judgement of the judging panel is final.
Submission Deadline: April 3 2020
Submission Regulations:
Each group of entrants may submit one video. The video should be within 5 minutes.
Both videos directly extracted from live streaming and edited videos will be accepted. As creativity and originality are the judging criteria, you are recommended to create and add interesting elements in your submission.
Videos created in social singing app such as Smule, Yokee, Sing Karaoke will be accepted. Note that these are suggestions only and entrants are responsible for identifying tools to create the video. The entrants will not be reimbursed for any cost involved in creating the video.
The video should be in one of the following formats: MP4, AVI, MOV, FLV, WMV. Please save the video in your Google Drive and provide us a link. Links to video streaming websites such as YouTube and Vimeo will not be accepted.
1. Students who do not submit a video may get involved in joining the online voting. "My Favourite Music Performance" is awarded to the entry which has gathered the biggest popularity among voters. Details of voting will be announced in late March.
2. "Most Original Performance" will be awarded to the entry with the highest level of creativity, either in musical performance or online presence. The winner will be determined by the adjudicators.
No scores for the Council Chairman Bowl will be entitled to these two prizes.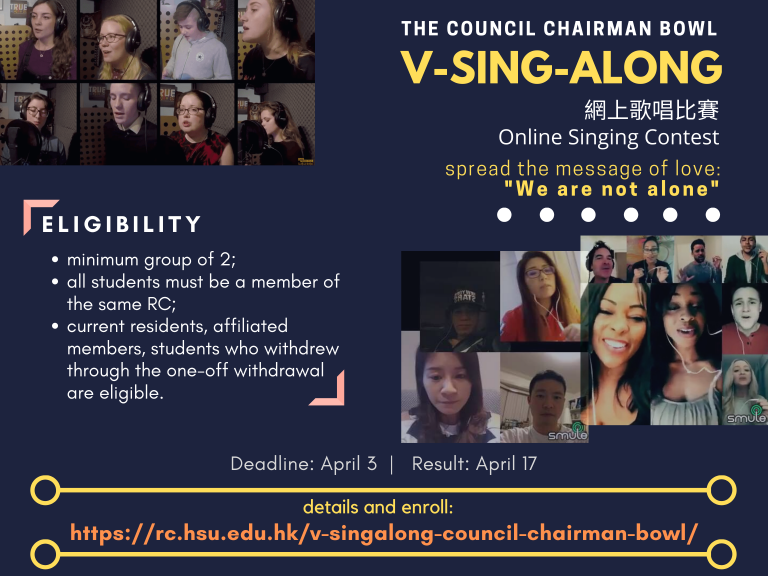 Current Scores of the Council Chairman Bowl
| | |
| --- | --- |
| Residential Colleges | Points Accumulated |
| Evergreen College | 200 |
| Mosaic College | 140 |
| Patrick S.C. Poon Amity College | 120 |
| S.H. Ho Wellness College | 100 |