Alcohol Awareness Education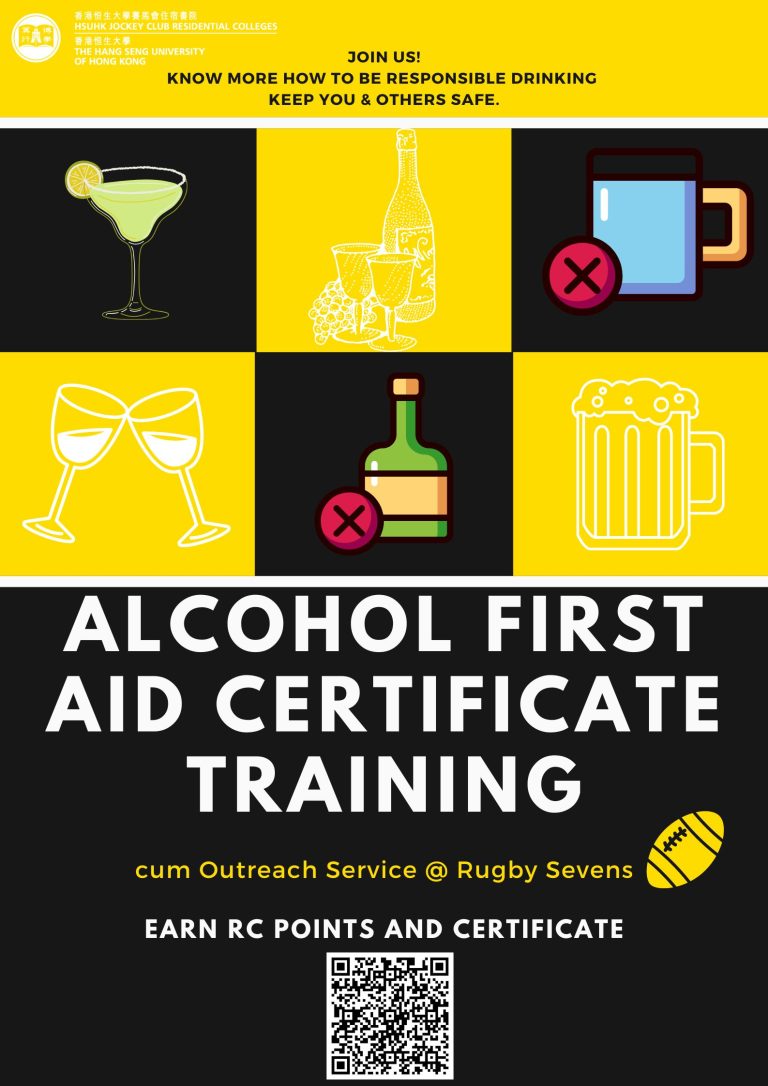 A one-day workshop that aims to provide student residents with the knowledge and skills to recognize alcohol misuse, its impacts and the available support services and treatments. Participants will learn practical skills on how to talk to someone about their alcohol use without being confrontational.
Participants who completed the Certificate Training successfully will be granted an opportunity to set up a booth in Rugby Sevens.
Participants who completed the training and Outreach Service will be:
a) Given an unique Alcohol First Aid Certificate;
b) Awarded 5 – 15 RC points* under "Contribution and Participation in Residential Colleges Life" AND extra 6 iGPS units*;
c) Provided an opportunity to list their experience and service in their application for RSL Scholarship.
*Participants who attended the Training only will be give 5 RC points. For those who completed the Outreach Service after the Training will be given 15 RC points in total and extra 6 iGPS units. RCU reserves the right of final decision.
Quota: 30 
(Priority will be given to Floor Ambassadors, Residential Associations and Residential Student Leaders.)

What is alcohol?
Alcohol is a colourless liquid contained in wine, beer, spirits, and other alcoholic beverages. Alcohol slows down the way your brain relays information to the rest of the body. Even in small quantities, alcohol drinks could affect your body at once.
The ability to metabolise alcohol differs based on factors such as gender, age, ethnicity and body size. The speed of drinking and the amount of food in the stomach while drinking also affect the rate of absorbing alcohol by the body.
The legal age to purchase alcohol in Hong Kong is 18 years of age.
Types of alcohol:
Beer
Cider
Spirits
Wine
Liqueur
Pre-mixed drinks or cocktails
Fortified wines